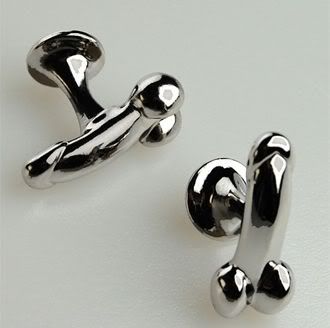 They are exactly what they look like O___o penis shaped, rhodium plated cufflinks. And they are worth £85.00. Lol I wonder who is the one who thought this was a good idea...they look absolutely stupid. Imagine a guy puts his hand out for you to shake and you notice these cufflinks on him....hahaha i can't imagine.
Aside from the randomness...I'm falling in love with the Vivienne Westwood pendants. >.< I don't think they carry any VW stuff in Canada....*cries*
I saw it and I knew I had to share it. I was browsing through some Vivienne Westwood jewelery and I came across....these...